Welcome to the Tubie!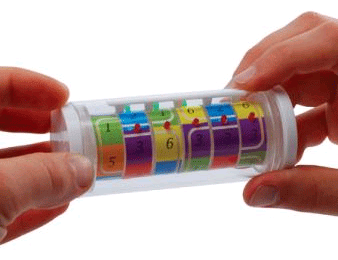 Tubie is a new puzzle, where you have to line up the coloured cells by moving the clear tube on the outside. Make the right choices and you can solve a Tubie in just a few moves, but go wrong and you could be in for a long session.
Tubie was on sale in the Christmas season of 2011 at several major retailers, thanks to the involvement of Wow! Stuff. It has not been on sale in 2012, but we have hopes for a revival in 2013, and are continuing to work on other versions, and indeed other puzzles.

Tubie should have been sold with a swing tag. If yours doesn't have one, see what it says here
Why do I want one?
It's new
It's eyecatching
It's clever
It's addictive
It's fun
It's quiet and needs no batteries
It's great for journeys, with no parts to lose
Tubie doesn't all come right at the same time. Each design contains several puzzles, so you can move from one to the next, or just play around and see what turns up.
What you can do here
This is the place to find solutions to the Sudoku Tubie (on the next page) but you can also: